Main goal of the Winter Retreat
The VocalizeU winter retreat has been designed to give artists a place to meet and grow creatively. Whether you are looking to improve your songwriting, performance skills, creative flow or teaching skills, this is the program for you. Different from our Summer Artist Intensive, this program is laid back and has more collaborative time built in the schedule for you to find personal growth. Come ready to make mistakes and live outside your comfort zone while being surrounded by some of the best instructors in the world and supportive peers.
Through the Winter Retreat''s unique program, artists will get to intimately work with:
Prominent Songwriters
Performance Experts
Recognized VIP Voice Training Experts
Well known & Established Artists
Motivational and Inspirational Speakers
and Other Leading Professionals
Our VocalizeU Winter Retreat is designed to enhances artists'' knowledge, creativity and creates nurturing environments for those who love to sing and want to heighten their craft as a vocal artist. This retreat will focus on more creative elements of artistry, such as; songwriting, artist development, collaboration, song pitching, vocal styling, stage presence and so much more!
Who is this for?
The VocalizeU Winter Retreat is for 18 and older artists who want to dive deep into their artistic expression and passion. We welcome all artistic platforms, styles, ability, and training background. Anyone who wants to further express their talents and hone their skills, will greatly benefit from attending this amazing event.
Retreat Daily Schedule
Artists may pick any classes they want for each time slot.
Click here to view Full PDF Version
Mission Statement: Giving Everyone A Voice
We strive to revolutionize vocal and music education by providing unparalleled virtual access to top quality vocal training and exclusive VIP industry insider knowledge, to cater to the every need of singers and performers. Our main goal is to provide quality vocal education and instruction to everyone.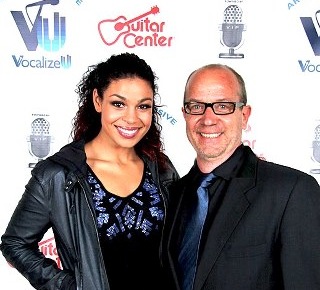 "After the immense success of our Summer Artist Intensive I wanted to offer everyone a chance to work through everything they've learned in a slower, nurturing and collaborative environment. But this is not just for past attendees, this is for any artist that wants critical feedback, team building, artistic reflection and intimate mentorship as a whole artist."
~Dave Stroud, Founder (davestroud.com)

This program that Dave Stroud has developed was really a life changing experience, which taught me how to grow as a musician and vocalist. It gave me the opportunity to learn from some of the most recognized people in the music industry and work with various artists from all over the world. Not only did I learn from the best, but I was able to work with some of the top vocal coaches to perfect my skill." -Carrissa Peros
We chose this venue because it is ideal for creative sparks and inspiration. This serene retreat center is in the heart of Forest Falls, surrounded by majestic trees, cascading lakes and gorgeous outdoor scenery. It is a beautiful, self contained and safe space for artistic development.. More info, click here.
Past Event ~ Winter Retreat 2013 (Sold Out)
Limited space. Register soon to reserve your place!
Special Guests
Check back for updates.
Instructors and Staff
More instructors will be announced soon. Check back for updates.
Event Registration
Contact Information
Join the VocalizeU Family
Our Sponsors